RESTAURANT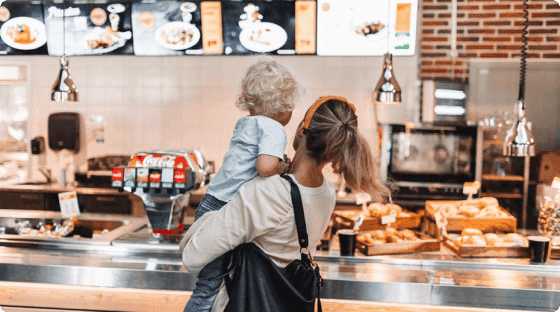 A VARIETY OF TASTY FOOD FROM ABC RESTAURANTS – ALSO TO GO
ABC's restaurants around Finland are open every day of the year, some 24 hours a day. You can start the day with good energy after having breakfast at ABC. For lunch, we serve tasty everyday food from the buffet at an affordable price. Our range of snacks and bites to enjoy with coffee offers a wide variety of café products, and our menus include the most delicious new items and classics for a little indulgence. Best of all: All dishes can be easily ordered to go with ABC-mobiili!
ABC's buffet always includestwo main course options and a vegetarian option. The varied salad buffet is available at stations where we offer both ABC's buffet and à la carte meals. Some ABC stations also offer a pizza buffet. Under Stations, you can filter those stations on the map that also have a pizza buffet.
The à la carte menu includes customers' all-time favourites, such as a minute steak, meatballs, and country-style salads. For a little indulgence, we offer tasty pizzas, our ABC's own Loaded fries and Pita pockets, not forgetting the new favourite dishes, such as Kebabc! The menu caters for special diets as well as possible, so that there's something for everyone. Apsi the Monkey's menu for kids includes all the favourites for children aged 3–12. Children's meals always include an ice cream or ice lolly. The diverse range of ABC's restaurants offers meal options for the whole family! A perfect ending for a meal is a cup of hot coffee and genuine and fresh Arnolds Originaldonuts.
Check the prices for the buffet lunch and à la carte meals, serving times and the entire menu under Stations. Read more about the benefits and services we offer for groups and make a reservation >>
SAVE TIME WITH ABC-MOBIILI
See the restaurant's selection and prices

Order food from the station without queueing

Add the time you want your order to be ready and complete the mobile payment

You can eat your meals at the station or pick them up

Earn Bonus from your purchases

You always get a 10% discount on the buffet!

Also other benefits
Also remember the most helpful co-driver and its features that make motorists' lives easier, such as multiple washes, mobile refuelling and ABC-lataus.