REFUELLING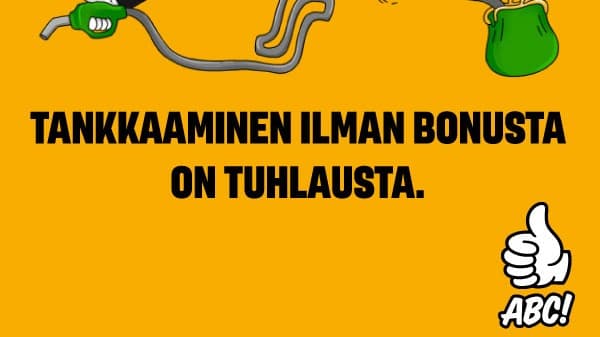 REFUELLING AT ABC STATIONS ACCUMULATES REFUELLING BONUS
When refuelling at ABC stations, you can accumulate Refuelling Bonus determined by your household's Bonus percentage. In addition to petrol and diesel, you can also earn Refuelling Bonus from Eko E85 fuel and fuel oil. You can get up to 5 cents per litre as Refuelling Bonus. In addition, you will receive 0.5% payment method benefit when paying with your S-Etukortti Visa. It is worth concentrating your purchases, as by refuelling at ABC stations and by increasing your household's Bonus percentage, you will receive more Refuelling Bonus. Fuels sold at ABC stations:
Nero Diesel – completely renewable diesel grade by ABC
Smart Diesel – a high-quality diesel with top features
Eko E85 – Finnish, eco-friendly and low-cost fuel
95 E10
98 E5
ABC's extensive network and the fastest refuelling of the world are easily accessible with ABC-mobiili.
PAY FOR FUEL WITH ABC-MOBIILI
The easiest and fastest mobile refuelling.

Pay with a press of a button and start refuelling

No need to fear that someone copies your payment card

You will automatically earn Bonus

Monitor your consumption in refuelling statistics
ABC-mobiili offers many other features that make motorists' lives easier, such as car wash, ABC-lataus charging, pre-order of food and benefits.