ABc-mobiili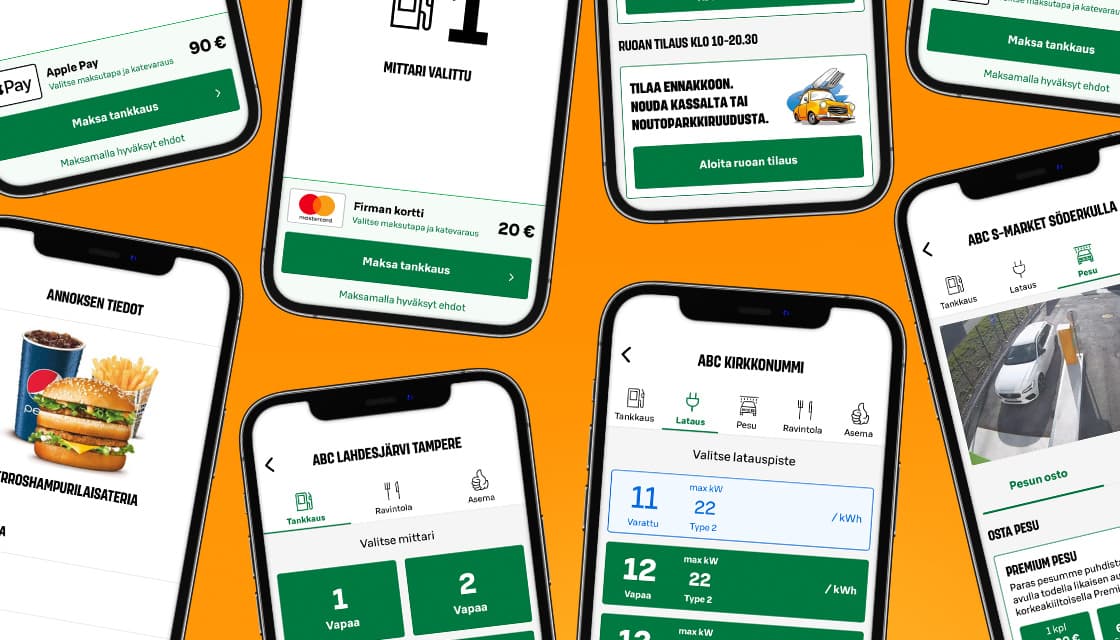 ABC-MOBIILI SAVES TIME WHERE IT COUNTS
ABC-mobiili is a mobile app that provides a range of practical services for motorists: advance food orders and payment, mobile refuelling and car wash, and electric car charging. ABC-mobiili offers changing benefits for its users. The app is available for Android and iPhone mobile phones.
Use these instructions to access ABC-mobiili:
Download the free ABC-mobiili app from your app store.

Register and accept the terms of use. When registering as a co-op member, you will automatically earn Bonus. By connecting your S-Etukortti Visa card as your payment card, you will earn Bonus and receive a payment method benefit of 0.5% from your purchases.

Your login code will be sent to your email at registration. NOTE! In addition to your email inbox, please check your spam folder if the email has not reached you. More detailed instructions for people using Elisa's email are available in the ABC-mobiili's instructions.

Add the credit or debit feature of the desired payment card. By connecting your S-Etukortti Visa card as your payment card, you will earn Bonus and receive a payment method benefit of 0.5% from your purchases. You can also use Apple Pay in the ABC-mobiili app.

All done! You can immediately try out the easiest and quickest mobile refuelling in the world.

You can also add the S-Business card for corporate customers to ABC-mobiili. You can pay for refuelling, electric car charging and car wash conveniently with your phone.
ABC-mobiili's services make daily life easier
Learn more about ABC-mobiili's services that make daily life easier. When you download the free ABC-mobiili app, you can instantly use our time-saving services.
Order and pay for food in advance and avoid queues at checkout
You can use ABC-mobiili to order food at all ABC service station stores

A wide selection of tasty dishes and Apsi the Monkey's menu for children

You can pre-order meals either for eating in or as takeaway

You can set a suitable time for the food to be ready or select the estimated time displayed in the app.

When you arrive at the station, enter the number of the pick-up parking space or the table number at the restaurant, and the dishes you ordered will be brought to you.

You automatically earn Bonus from your purchases
Buy single or serial washes
You can wash your car without getting out of your car

The most comprehensive network in Finland. Mobile wash is available at nearly all ABC service stations.

Check the queuing status with the queue camera

See prices and wash options

Buy the wash securely and earn Bonus

Save by buying a multiple wash or monthly wash pass
The easiest and fastest mobile refuelling in the world
Mobile refuelling works at all ABC stations

Pay for refuelling in the app, so you can start refuelling straight away

No need to fear that someone copies your payment card

Earn Refuelling Bonus up to 5 cents per litre automatically

Monitor your consumption in refuelling statistics
ABC-lataus to charge your electric car
The most convenient way to charge your electric car

Find the nearest charging station and available charging stations

You can see the maximum charging power of the stations and prices

Pay for charging your electric car securely with the ABC-mobiili app

You can find the receipt for charging in your profile
Apple Pay at your disposal also in ABC-mobiili
You can pay for your purchases and services in the ABC-mobiili app also with Apple Pay

When paying with Apple Pay, a separate bank identification request is not required. The phone makes use of the security features built into Apple's hardware and software – making payment even more convenient!

Bonuses are registered even if the payment takes place with other payment cards, provided that you are logged into ABC-mobiili as a co-op member.
ABC-MOBIILI MAKES MOTORISTS' LIVES EASIER
Refuel and charge your car

Buy affordable car washes, including multiple washes

Order food in advance and avoid queues at checkout

Earn Bonus from purchases automatically

You will also get a lot of benefits, such as 10% off the ABC buffet